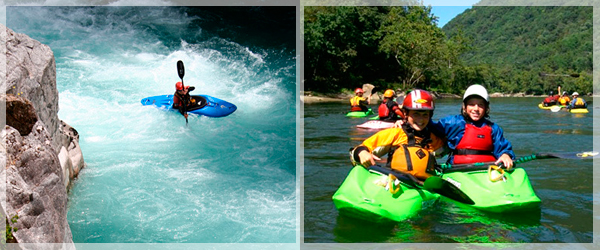 Futaleufu Kayaking
The Futaleufu river is a world class kayak destination and the Hosteria Rio Grande adventure lodge is perfectly set-up to help support  your  kayak vacation.  We welcome kayakers who have outgrown the camping scene.  Let our dry Futaleufu hotel be your refuge away from the river, where a warm bed, hot shower, breakfast, dinner and après-kayaking bar await you.
We will provide you with a secure place to store your kayak and dry your river clothes.  With our high-speed internet you will be in instant contact with the outside world where you can upload the day's photos, chat with friends or make reservations for other destinations on your kayaking itinerary.
At the bar and in the restaurant you will come in contact with other paddlers who are kayaking the Futaleufu, offering the opportunity to set-up shuttles and plan runs together. Within ten minutes walking from our hotel in Futaleufu is the Rio Espolon play-wave, where you can tune-up your skills or paddle well into the evening. In summer the sun does not set in Patagonia until  after 10:00pm.
About renting kayaks in Futaleufu:
Renting a kayak is possible on the Futaleufu from a number of companies, but not without some assurance to the proprietors that you have the skills to paddle the river without losing the kayak. Expect to pay a significant deposit for use of the boat or spend some time paddling with them beforehand.

The Hosteria Rio Grande is a Futaleufu hotel offering accommodations  in all seasons. During the tourist season we specialize in adventure travel, offering connections to activities like:  rafting, kayaking,  fly fishing, horseback riding, and more.  Make our Futaleufu hotel your choice for lodging.