At the Hosteria Rio Grande, you expect the highest quality dining and meal preparation facilities to make your holiday, seminar, conference or event unforgettable.
The restaurant has a large dining room with a central fireplace. It has a capacity for 45 people in total, and is interconnected with our Bar, Grill and Pub.
Our cuisine is a regionally based "Patagonia Style" that includes fresh produce from the surrounding areas, locally grown organic vegetables from farms and greenhouses, as well as our own cheeses, honey and pastries also produced locally.
Our kitchen is efficient and our cooks and serving staff are attentive to our guest's individual and varied needs. The kitchen is thoroughly modern, inspected regularly and adheres to the highest sanitary standards.
We serve vegetarian dishes upon request and cater to individuals with other dietary restrictions.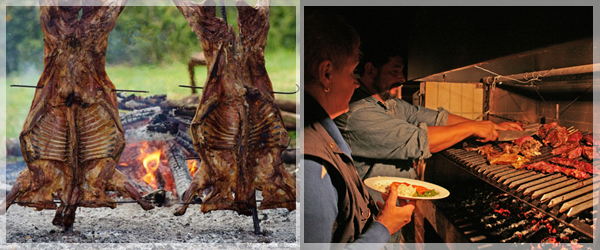 Bar, Grill & Pub:
Our Futaleufu hotel bar is stocked with the most popular Chilean and Argentine beers as well as a select number of imported varieties. We are especially proud to stock locally made Futaleufu artisanal beers which our guests often find to be superior to the larger commercial brands. Our beer is both bottled and on tap.
We also have a wide and varied selection of wines, focusing on those produced regionally in Chile and Argentina. The bar and pub are also stocked with an ample supply of various liquors for the preparation of mixed drinks and cocktails.
During the high season our pub has a vibrant, eclectic atmosphere and is patronized by international travelers from all over the world: where you will be sure to make friends, share stories and plan future adventures.

The Hosteria Rio Grande is a Futaleufu hotel offering year round lodging in all seasons. During the tourist season we specialize in adventure travel, offering connections to activities like:  rafting, kayaking,  fly fishing, horseback riding, and more.  Make our Futaleufu hotel your choice for lodging.