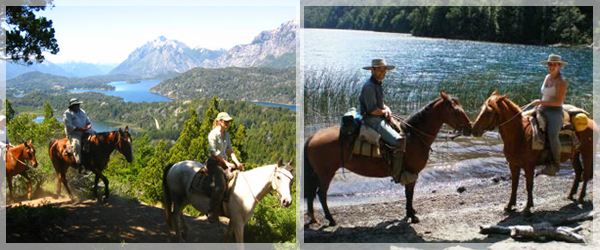 Horseback Riding in the Futaleufu Valley:
Since the time of the pioneers in the Futaleufu valley, horses have been the best friends of the settlers, here, especially during the most difficult years of colonization, when the roads we have today were just a dream. Thus, the life of these settlers depended largely on their horses.
Today, many of the same families who settled the valley have turned their attention to tourism and have adapted their working ranches to accept guests. The result has been a boom of horseback riding in the Futaleufu region. We invite you to go trail riding "back in time" visiting some of these families with options to overnight at their ranches or share a meal with them.
The horse the ranchers rely on in Patagonia is the Chilean Corralero, which is one of the oldest established breeds in the Americas. Guests from all over the world are amazed at this horse's dexterity and strength, outperforming similarly sized breeds from North America and Europe.
All of the tack is native Chilean and Argentinian. The ranchers here use the Chilean "Avio" working saddle, designed for long days on the trail and are very comfortable for both horse and rider. Experienced riders don't take long to adapt to it.
Horseback riding options from our lodge in Futaleufu are numerous. There are many day trip possibilities from town, mult-day trips that involve staying at local ranches, or epic journeys over the Andes.
Please contact us to discuss your horseback riding options.

The Hosteria Rio Grande is a lodge in Futaleufu offering year round accomodations to travelers. During the high season we specialize in adventure travel, offering connections to activities like:  rafting, kayaking,  fly fishing, horseback riding, and more.  Make our lodge in Futaleufu your vacation choice.