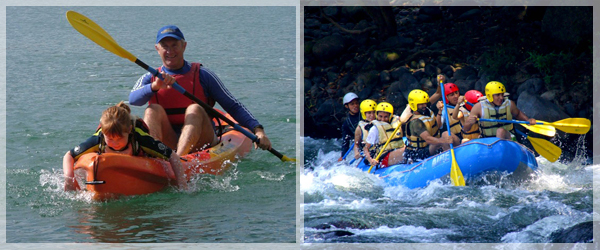 Float Trips on the Espolon River:
Float trips are a great alternative for people want a river activity that is less challenging than the class IV-V Futaleufu River. The class III Espolon River flows through the town and is minutes away from our Hotel in Futaleufu.
Outfitters in Futaleufu offer two options for descending the Espolon River, either by Raft or by Sit-on-top Kayak.
Rafting Option: Rafting is a great recreational activity for families with small children and groups who want to stay together. The Espolon River has class III whitewater and a raft offers the safest most comfortable way to descend it. The rafts used on the Espolon are smaller versions of those used on the Futaleufu river. The price includes a guide, paddles, life-jackets, helmets and transportation to and from the river.
Sit-on-top Kayak Option: The upper section of the Espolon river is conducive to sit-on-top kayaking. This type of kayaking gives participants a feel for what it is like to paddle a fully decked whitewater kayak, however it is not without its hazards. Participants wanting to sit-on-top kayak should be in good physical condition, be able and be ready to swim and be prepared to actively maneuver the craft. Sit-on-top kayaks available in town include the hard shell and inflatable ducky variety, depending on the outfitter. The price includes guides, kayaks, paddles, life-jackets, helmets and transportation.
With a variety of float trips to choose from in Futaleufu, you need not think twice about where to spend your vacation.

The Hosteria Rio Grande is a Hotel in Futaleufu offering lodging in all seasons. During the summer season we cater to adventure travel enthusiasts, offering connections to activities like:  rafting, kayaking,  fly fishing, horseback riding, and more.  Make our hotel in Futaleufu your choice for lodging during your vacation.