Patagonia Fly Fishing

The waters in the Futaleufu valley have a legendary reputation in the fly fishing community. The village of Futaleufu borders the continental divide between Chile and Argentina. This sets up a situation where micro-climates predominate in the short distance between the arid pampas of Argentina and the temperate rainforests of costal Chile. As a result, there are many types of fishing to be had: dry fly fishing on quiet lakes to streamer fishing in the wild currents of the Futaleufu River. All of our programs are catch and release.
The sport fishing season in Chile usually runs from the second Friday in November to the first Sunday in May. Periodically these dates have been known to shift. Chile fishing licenses are available from Sernapesca (National Fish Service). Contact our hotel in Futaleufu for the exact dates of the fishing season or for help with acquiring a license before your stay with us.
There are many guides to choose from in our area and we know the best: native Spanish and English speakers who regularly fish these waters. If you are interested in fishing between the whitewater sections on the Futaleufu we can put you in touch with guides that have that skill. Many of the fishing locations here require local knowledge of the put-in and take-out locations and in some cases involve permissions from the land owners. We make all of this easy for the guests of our Futaleufu Hotel.
Fly shops of the North American type are rare in Southern Chile. However we have regular contact with the local guides and lodges as well as shops that stock some gear in Futaleufu.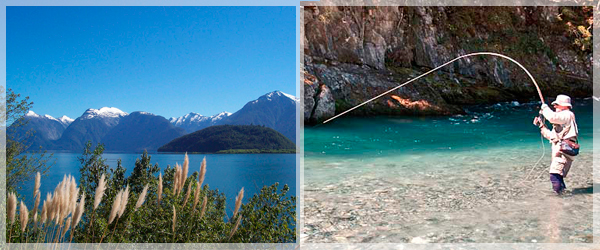 Sample Itinerary
Fly Fishing – Futaleufu and Lago Yelcho
All inclusive: (7 days 6 nights) : hotel in Futaleufu, accommodations away,  meals, guided excursions and transfers from Puerto Montt – Chaitén – Futaleufu, returning via: Lago Yelcho – Puerto Montt – Chaitén.
Day 1
Arrival in Puerto Montt (Tepual Airport) then boarding a small aircraft bound for Chaitén. Arrival, and reception at airport, from where we will go via ground transportation to the remote town of Futaleufu, by winding mountain road, covered with forests. We will pass by the blue waters of Lake Yelcho and have the opportunity to trek to the imposing Yelcho Glacier, en route. After three hours on the road you will arrive at our hotel in Futaleufu. Welcome cocktail, dinner and overnight.
Days 2, 3 and 4
A breakfast buffet starts each day, with guided fishing trips to area waters with our guide Raul San Martin and his team, who have over 30 years of sport fishing experience in Patagonia. Picnic lunch each day. The waters we typically fish: Lake Lonconao, Rio Futaleufu, Lake Espolon, Espolon River.
Days 5 and 6
Early morning breakfast followed by a transfer to another Hotel on Lake Yelcho. Here we will continue our fishing on the famous and productive Lake Yelcho and the Yelcho River.
Day 7
Breakfast followed by a transfer to Chaitén for your return flight to Puerto Montt and back to country of origin.

The Hosteria Rio Grande is a Hotel in Futaleufu offering year round accommodations  During the tourist season we specialize in adventure travel, offering connections to activities like:  rafting, kayaking,  fly fishing, horseback riding, and more.  Make our hotel in Futaleufu your vacation destination.